Campground Amenities and Activities at Camp Riverview
Keep clean while exploring the Frio River! We have 5 washers and 6 dryers on site for our guests to use. Washers are $2 and dryers are $1.75 for 45 minutes. 
Coming Summer 2022 – Two new family style bath houses with a total of 4 individual restrooms and showers.  Additionally we have a large bath house with 4 showers and restrooms for ladies and 4 for men.
Items Available at the Store:
Forgot milk or eggs? We got you covered!
River and fishing gear
Water guns and glow sticks for the kids
All of our Camp Riverview swag, including hats, shirts, and the popular SA Straw Hats
Drinks, snacks, and ice cream to beat the heat
Tent stakes, sewer hoses, and more for all of your RV and tent camping needs
Summer store hours are 9AM to 8PM daily. Between Memorial Day and Labor Day, store hours vary. 
INTERNET AND PHONE SERVICE
While Fiber internet is not yet available to our campground, we have internet access with speeds up to 50 Mbps download speed. In the summer when we are full, you should be able to check messages and social media but it is not possible to stream videos.  Currently, we are testing Starlink, as soon as we determine it to be reliable we will open it up to the campground.  
AT&T is the most consistent across the campground with Sprint/T-mobile working in some areas. Verizon will likely have limited service in the Concan area, but consult your carrier for more information!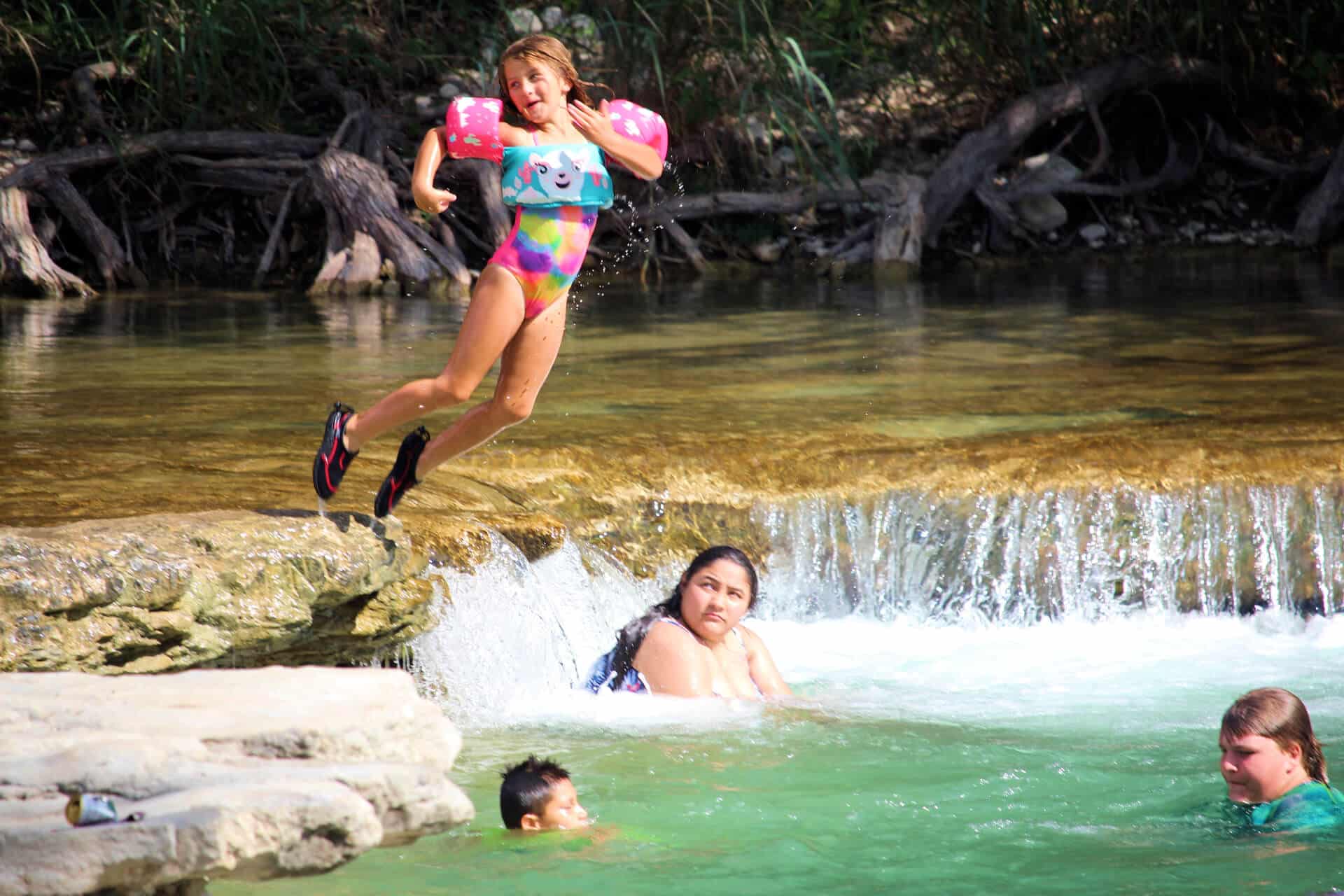 FUn Campground Activities for kids
Camp Riverview is fully equipped to provide the most fun for your kids! Let the kids enjoy the swings and slide at our playground or play a rousing game of Gaga ball on our 20′ diameter court. 
Other Yard games for loan in the camp office:
Yard Yahtzee
Giant Jenga
Volleyball
Horseshoes
Bocce
Fun laser tag for the whole family! Run between obstacles to tag the other team while making sure not to get tagged yourself. 
Minimum age to play is 5-6 years old. Pay only $8 for a ½ hour session consisting of two games using our professional equipment for a fantastic experience.